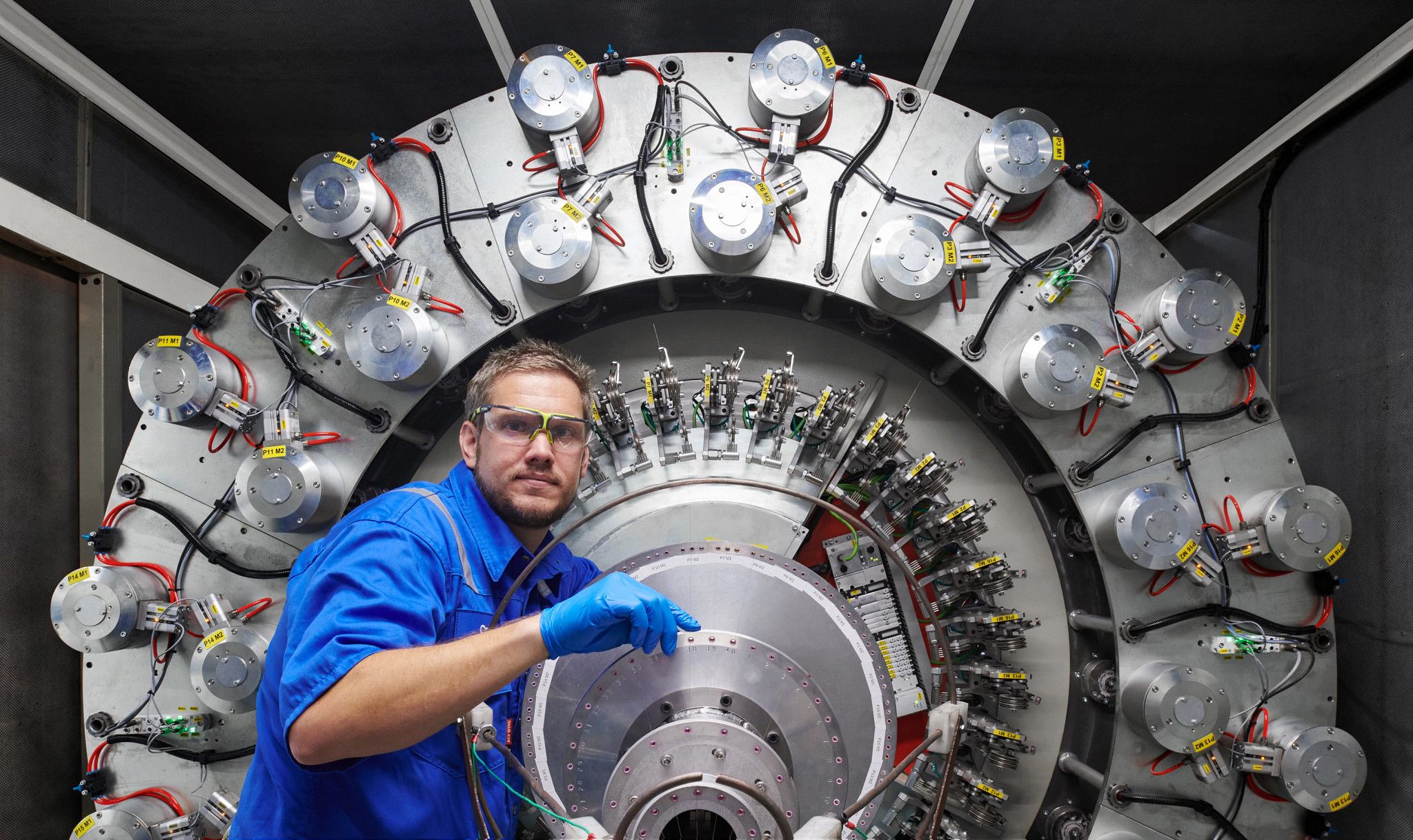 Our story begins with what it truly means to be a technology innovator. It stems from a common sense of purpose that unites the people of SLB. With a global footprint in more than 100 countries and employees representing almost twice as many nationalities, we work each day on innovating oil and gas, delivering digital at scale, decarbonizing industries, and developing and scaling new energy systems that accelerate the energy transition.
Our purpose:
Together, we create amazing technology that unlocks access to energy for the benefit of all.
Our commitment to customers
We've always built our business around our customers and their endeavors; they are at the center of everything we do. Bringing together talented people from all over the globe, we're working on the industry's most complex and pressing challenges to anticipate and align with our customers' needs. We want to be their performance partner of choice.
To achieve this goal and deliver the best results, we must combine our unique talents and our collective expertise—not just within SLB but by working closely with our suppliers, contractors, and business partners.
Our people
We are industry leaders because of our exceptional and talented people. They are the core that drives our purpose and integrity, which fuel our belief that everyone should have the opportunity to reach their greatest potential. Ever-evolving and constantly innovating, we transcend every cultural and technological boundary set before us. Indeed, it is our diversity that makes us stronger. Together, we achieve more.
We are SLB, and we are leading the energy industry forward—together.

Our values
SLB is committed to providing technologies and services that enhance and optimize our customers' performance while creating mutual value for all involved. To that end, we look to three core values that guide the decisions we make as we pursue our ambitions:
We value People, because our exceptional and diverse people are the pulse and spirit of who we are.
We value Technology, because our passion for exploring enables us to solve the world's energy challenges.
We value Performance, because together we deliver outstanding results to build a sustainable future.
Our Promise and Commitment to you
We are facing the world's greatest balancing act—how to simultaneously meet the world's growing energy demands while rapidly reducing harmful emissions.
This is a pivotal time. The transition to a low-carbon energy system is the largest, most important industrial shift ever attempted, and it will take decades to achieve. As a technology company, we have a responsibility to drive energy innovation and to help accelerate the decarbonization of industry-at-large while building a new energy landscape. Assuring sustainable progress for all on the journey to net zero and beyond. Because our collective future depends on it, for a balanced planet.
Across 100 years of innovation, through the ingenuity and pioneering spirit of our people, we have developed a reputation as change makers. And while we don't have all the answers, we are not afraid of asking the difficult questions. Of ourselves, our partners, and the industry.
We believe that the biggest challenges need the most innovative thinking. To us, that demands diversity of thought. That's why above all, we value our people, spanning 160 nationalities across the world. Our passion for exploring enables us to solve these big challenges and to develop the future technologies that we need.
And while we work together with you, our partners and stakeholders, to deliver extraordinary results for a sustainable future, you can always count on us to put safety, security, and humanity at the heart of everything we do. Because while our business, industry, and our world are all changing fast, our commitment to integrity and performance does not.
Our Global Footprint
Global reach, local impact
We are committed to in-country value with local talent.
We believe in recruiting where we work. By partnering with local people and organizations, we bring both regional understanding into each project and growth opportunity for our communities.
Our global platform also gives local teams the chance to connect with other experts worldwide. This—combined with access to the latest technologies and relevant, timely data from across our network—delivers the optimal performance that you'd expect from a truly collaborative environment.
Fit-For-Challenge
We have the tech, knowledge, and operations that match regional needs.
Each project sees us evolve alongside our partners. We recognize customers' unique challenges as the chance to reframe our approach and reimagine our limits. How do we best combine our expertise, tailored technology, and digital innovation to adapt to local constraints and deliver beyond expectations?

Tailored cloud solution: stay local or go global
Define your own data borders.
Local data can be kept that way. Our partnership with IBM and Red Hat OpenShift® enables us to continue offering the first-ever private and public digital environment for people across energy domains and regions. Customizable data access for the user in a single, secure framework for the enterprise.
Worldwide Operations
With operations in over 120 countries, we bring a strong focus on our customers and regional dynamics.
(slb.com)