EMAR Offshore Services
Hall: Hall 1 Stand: D10
| Asset Management
| Exploration and Production
| Marine, Shipping and Storage
| Port/Port Owner
| Ship Chartering, Risk Assessment, Broking and Insurance
| Yes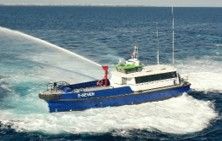 EMAR Offshore Services B.V. is an internationally recognized, experienced marine services provider, serving oil, construction and mining companies.
EMAR has a global track record for over 10 years in Suriname, Venezuela, Curaçao, North & West Africa and the UAE.
We always focus on cooperating with local parties by training/educating local crew and strengthening local communities, including local brands and boat registration.
Our range of services can be divided into 5 main categories;
• Towage – Transshipment STS and Port
• Transportation – Crewboat services and Heavy Lift & Semi-Sub
• Brokerage – S&P
• Monobuoy - SPM Operations
• Layup - Stacking Services