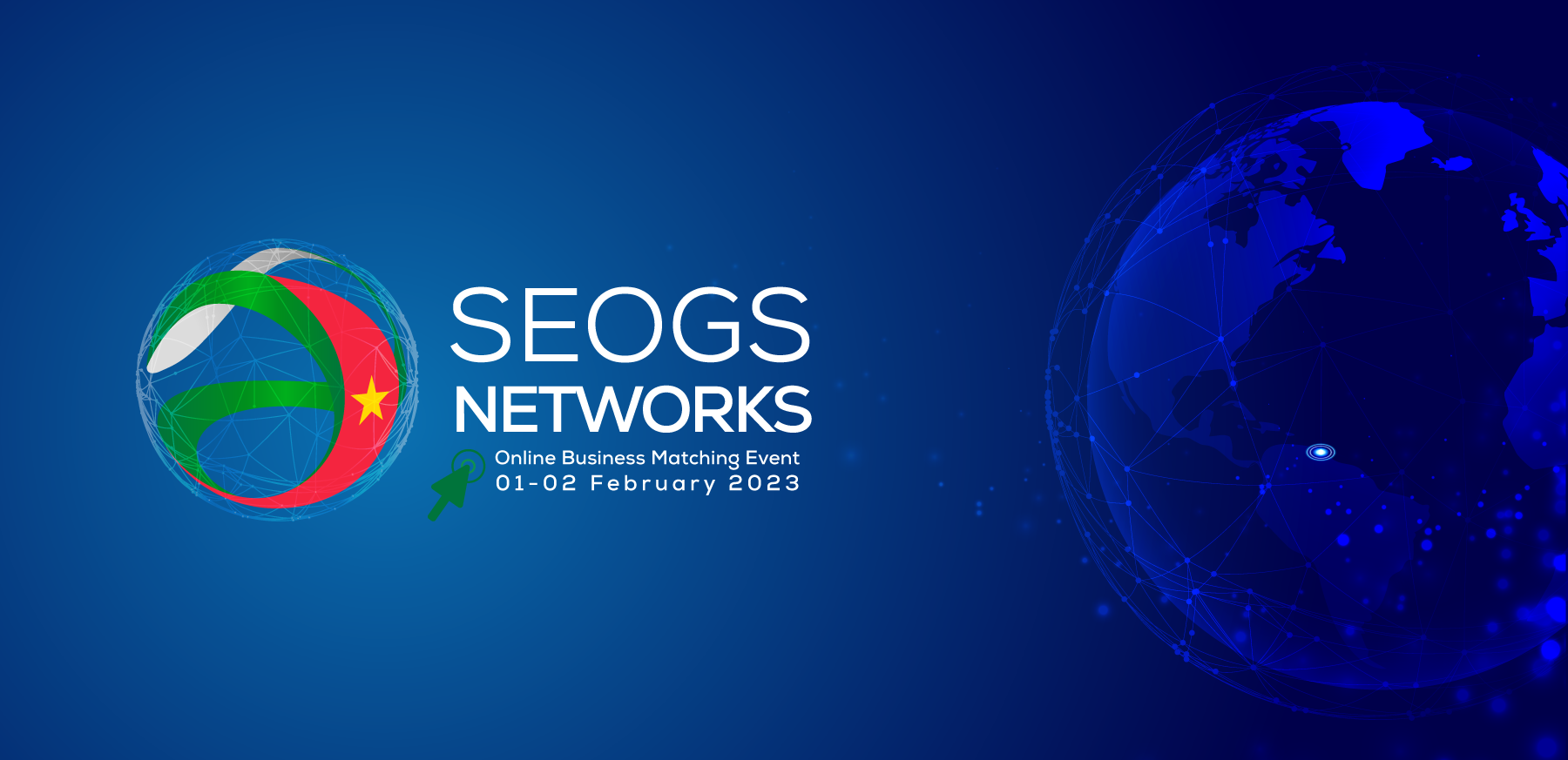 Brought to you by SEOGS and hosted by Staatsolie | 1-2 February 2023
SEOGS NETWORKS, 1-2 Feb 2023 is an online business matching event brought to you by SEOGS and hosted by Staatsolie. The SEOGS organising committee has a shared vision of promoting local entrepreneurship and attracting foreign investment and through market insights, research and intelligence understands that the best way to achieve this is through strategic partnerships.
To support your investment and business development in Suriname and assist you in growing your business, developing your project or expanding your operations in Suriname in 2023 SEOGS NETWORKS is designed and curated as two half days of business matching where a machine learning programme will help your company match its requirements and meet its needs. Whether you are looking to meet and connect with suppliers, buyers or distributors or are a local, regional, or international company interested in products, partnerships and/or joint ventures SEOGS NETWORKS is tailored to assist you in expanding your network and achieving these goals. Through an easy to navigate machine learning platform find relevant attendees and companies to connect via a business matching service that confirms meetings for you at a time convenient to you. With around 500 participants expected that platform also offers direct messages and built in video calls so you can connect with any and all other participants. Delivering 2 half days of structured business matching meetings and plenty of time after the event to continue building your networks. SEOGS NETWORKS will also deliver tailored content and supporting documentation and online resources on functional and topical items such as setting up a business in Suriname, negotiating energy contracts, marketing your company, business development, local content and more. Provides you an online platform and event app for companies to connect and do business without having to or in addition to travelling to Paramaribo meaning you get started on your business development, market entry or JV partnership before this year's 3rd Suriname Energy, Oil & Gas Summit & Exhibition, 26-29 June 2023, Paramaribo, Suriname. Knowledge exchange (downloadable content): MoU samples, meetings checklist, Suriname tax docs, company registration documents… Sponsors & Exhibitors already signed up for SEOGS 2023 will be offered several complimentary passes to SEOGS NETWORKS and a discounted rate thereafter. For further information on this please contact mperez@gep-events.com The SEOGS NETWORKS Business Matching Platform and Event App will remain live until the end of February and will be the same online platform supporting this year's SEOGS 2023 so getting to know your way around this February will save you valuable time in June for those all-important face to face meetings.
Stay tuned for more information on this online event via e-mail, the SEOGS website and the Staatsolie webpage