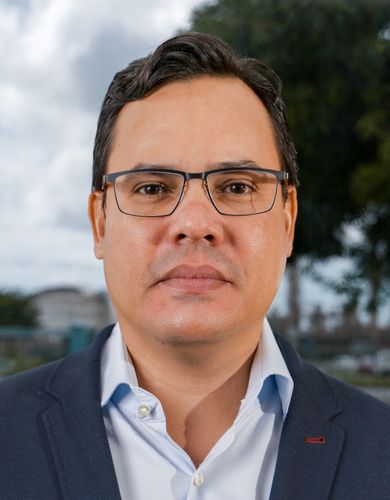 Bryan Ramsumair
Managing Director
,
DeNovo Energy Limited
Bryan Ramsumair is the Co-Founder and Managing Director of DeNovo Energy Limited. Under Bryan's leadership the company safely executed its second field development project, Zandolie which is located in Block 1a in the Gulf of Paria, Trinidad and Tobago. The award winning project boasts a 100% renewable powered platform and is the first of its kind in Trinidad and Tobago.
Prior to Managing Director, Bryan was the company's Chief Financial Officer leading the commercial, finance and procurement teams in the acquisition and fast-track development of the Iguana field, securing a USD 250 MM investment from Proman AG and a Gas Sales Agreement with the National Gas Company of Trinidad and Tobago Limited.
Previously Bryan was the CFO at Trinity Exploration and Production Plc. where he was involved in growing Trinity from a 1,100 bopd to 4,400 bopd through the drill bit and via strategic mergers and acquisitions. Bryan is heavily experienced in banking; his career began at RBTT Merchant Bank where he became involved in originating and structuring over USD 2 billion in equity and debt transactions throughout the Caribbean. Bryan also co-founded a corporate finance boutique called ONE1 Financial Limited which raised over USD 150 MM in financing in its first year of operation.
Bryan serves as a Board member on the Trinidad and Tobago Chamber of Industry and Commerce. He holds an Masters in Business Administration and Honors Business Administration from The Richard Ivey School of Business, Western University, Canada and is an Ivey Merit Award winner.