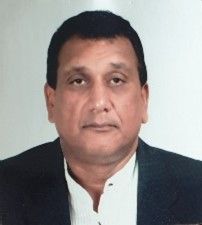 H.E. Henry Ori
Minister of Education, Science and Culture
,
Republic of Suriname
Born on the 23rd of November 1961 in Paramaribo. His Excellency Henry Ravindredath ORI, has obtained his Doctor's degree in September 2011 from the Vrije Unversiteit Brussel. He also hold a master in Applied Education Technology.
Before his current position as Ambassador of the Republic of Suriname in France His Excellency assumed different professions.
Appointed as Assisting Professor/lecturer at the University of Brussel, 2012, Education for Sustainability and internationals studies (2012-2016). He was appointed in 2020 at the Anton de Kom University of Suriname as Professor on the chair Education Policy and Education Innovation.
August 2020 to February 2022, Policy Adviser at the Cabinet of the President of the Republic of Suriname and the Minister of Foreign Affairs, International Business and International Cooperation (BIBIS), Member of the Social Economic Board Suriname (SER).
He became Ambassador Extraordinary and Plenipotentiary of the Republic of Suriname to the Republic of France on the 20th of February 2020. And finally, he was appointed as Minister of Education, Science and Culture on the second of May 2023.