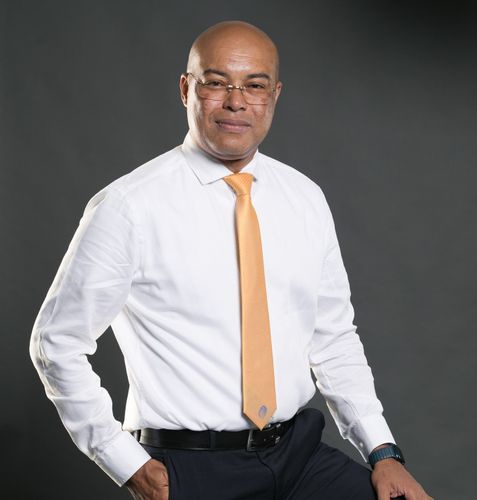 Mike Paul Antonius
Mike Antonius (50) lives by the motto: Success comes to a well-prepared mind. A principle that was raised by his parents and intrinsically motivates him to take up challenges with determination. Mike studied economics at the Institute for Advanced Training of Teachers in Suriname. At one point he decided to take a different turn and that became Marketing. He graduated from the Netherlands Institute for Marketing. This was followed by his MBA-degree at the Maastricht School of Management in the Netherlands. To further develop into a leader, he decided to follow all courses at Leadership Management International and successfully became one of the few Total Leaders of LMI in Suriname. In 2023 he received a Master's degree of Science Telecommunications Management from the Arden University in London
The drive for personal development, but also that of others, became the reason that, in addition to work, he always made time to gain knowledge and share it. Mike chose to share it mainly with young people via indoor football. Since 2005 he has been on the board of the Suriname Futsal Association. He is also a youth trainer for the same organization. Coach Mike makes it his mission to help boys in Suriname grow into responsible men in society.
Mike started working at Telesur in 1995 as a purchasing officer. During his career at Telesur he held various management positions, such as Manager Internet & Multimedia Services, Manager Telesur Netherlands, and Manager Corporate Strategy. He was also at the basis of the introduction of the two-country sim in the Netherlands and making it a profitable business.
In retrospect, all these experiences turned out to be the silent preparation for his appointment as Acting CEO of Telesur in May 2016. Two years later, in June 2018, he was officially appointed CEO. Under his leadership Telesur is transforming from a classical Telecom Operator to a digital communications service provider. In February 2023 Mike was elected chairman of the Board of the Caribbean Association of National Telecom Operators, after serving 4 years as vice chair.
Mike strongly believes in the benefits of lifelong learning and therefore continues to acquire formal and informal knowledge. Mike will definitely apply his result-oriented attitude and strong passion for acquired knowledge in his personal life and career in the company. But certainly, also as inspiration for others.