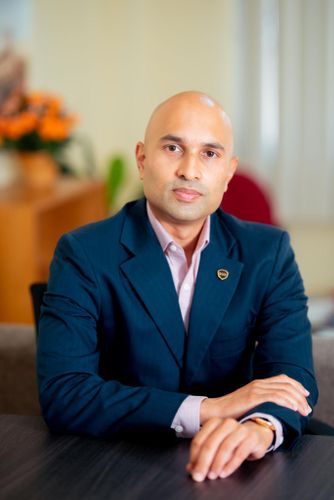 Nicholas Deygoo
Director
,
Vreed en Hoop Shorebase Inc.
Mr. Deygoo returned from Washington D.C. to join the family business in 2010, where he had worked with Wells Fargo Bank N.A as a mortgage backed Securities Analyst. His day to day roles include being a Director of National Hardware (Guyana) Ltd and Royal Castle Guyana Inc, where he is responsible for the overall corporate strategy; being a founder of Guyana Oil & Gas Support Services Inc, GONDE Inc and GOGSSI-TOFCO JV Inc, all three (3) of which provide technical and engineering support to the Oil & Gas Industry, and being one of the three (3) local partners of NRG Holdings Inc in the Port of Vreed en Hoop Project.
In the local business community, Nicholas has served as the President of the Georgetown Chamber of Commerce & Industry (2019-2021) as well as the Chairman of the Private Sector Commission of Guyana (2020-2021).