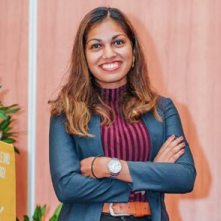 Sunaina Mohan
President
,
AAPG Young Professionals Suriname Chapter
Sunaina Mohan is the President of the American Association of Petroleum Geologists Young Professionals Chapter Suriname (AAPG YP Suriname) and the coordinator of the Earth Science Week committee of the AAPG Latin America & Caribbean Region. Currently she is pursuing her Master of Science degree in Petroleum Geosciences and Engineering at the Anton de Kom University of Suriname.
Sunaina is involved in social, educational, development, political, cultural, and religious matters in Suriname. Sunaina is the youngest and only female chairperson of the district councilors in district Commewijne. She is the co-founder of the Youth Association of Commewijne and volunteer at Unicef ​​Suriname & Guyana.
Sunaina is passionate about the recent developments in the Suriname-Guyana Basin and the possible effects on the small, young nation of Suriname. She considers herself very fortunate that she can play a role in maturing the many, evolving opportunities to serve this cause through her position.